HR Forum: How to Diversify Your Hiring and Search Pool: Strategies That Work
Wednesday, April 21, 2021 (11:00 AM - 12:00 PM) (EDT)
Description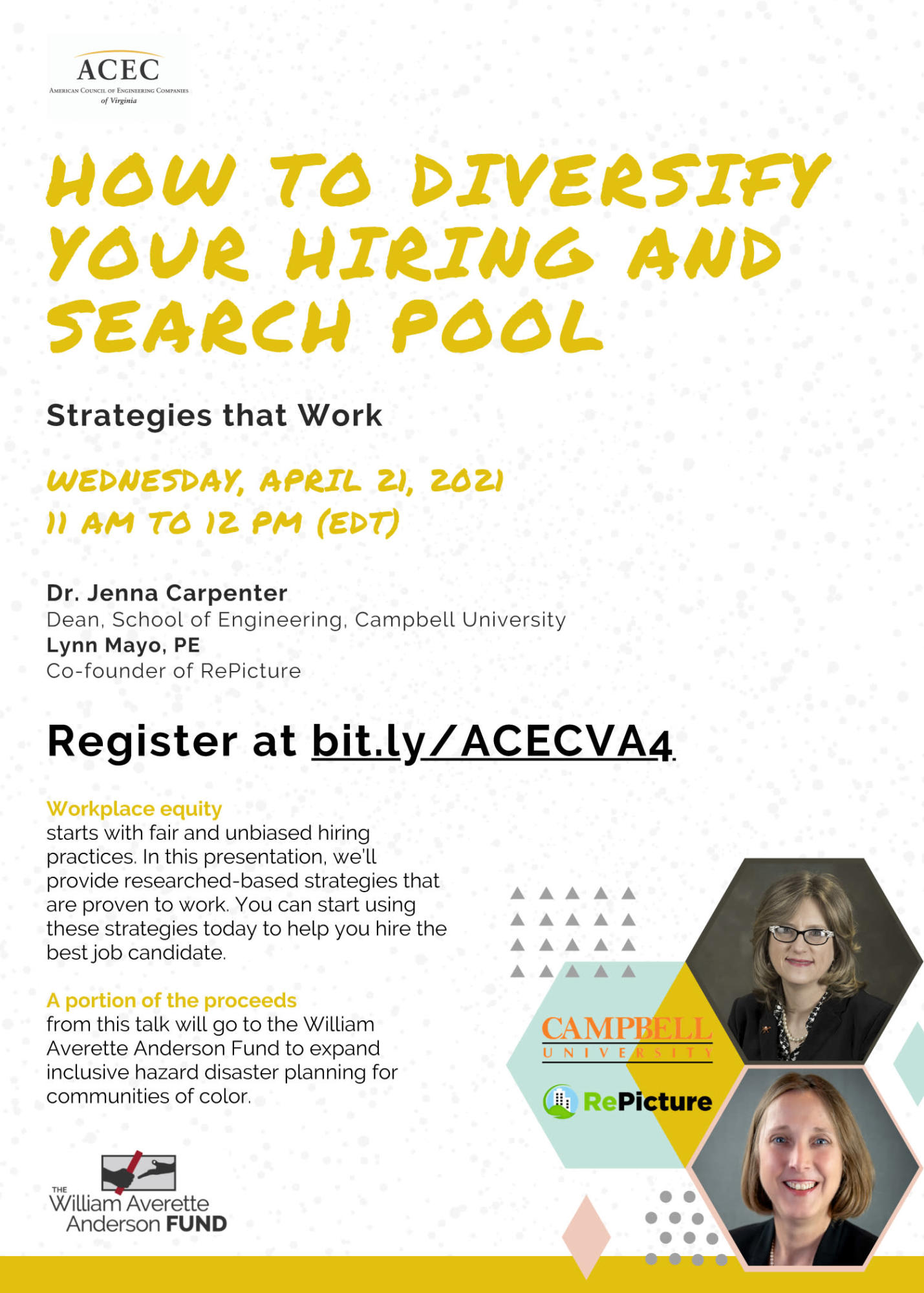 How to Diversify Your Hiring and Search Pool: Strategies That Work
Workplace equity starts with fair and unbiased hiring practices. In this presentation, we'll provide researched-based strategies that are proven to work. You can start using these strategies today to help you hire the best job candidate.
Topics will include:
Advertising Your Position
Forming the Search Committee
Recruiting
Filtering and Evaluating Applicants
Interviews
There will also be plenty of time for Q&A.
Registration:
ACEC Virginia Members: $25, Non-Members: $25
* A portion of the proceeds will go to the William Averette Anderson Fund to expand inclusive hazard disaster planning for communities of color.
Dr. Jenna Carpenter is the Dean at the School of Engineering, Campbell University in North Carolina. She is passionate about creating an innovative STEM higher education environment that enables faculty, staff, and students' success and values/promote all groups' success. Through her leadership, Campbell University has attained 80 percent, female faculty in the Mechanical Engineering department.
Lynn Mayo, PE, is co-founder of RePicture. Through the RePicture.com platform, RePicture is telling the stories of STEM professionals and projects to make STEM accessible and attractive to all. The free RePicture Resume-Builder Summer Program helps STEM college students and exceptional high school students explore their career options while building valuable writing and communication skills.
Webinar

Wednesday, April 21, 2021 (11:00 AM - 12:00 PM) (EDT)