Remote Leadership Seminar
Wednesday, February 8, 2023 (11:00 AM - 12:00 PM) (EST)
Description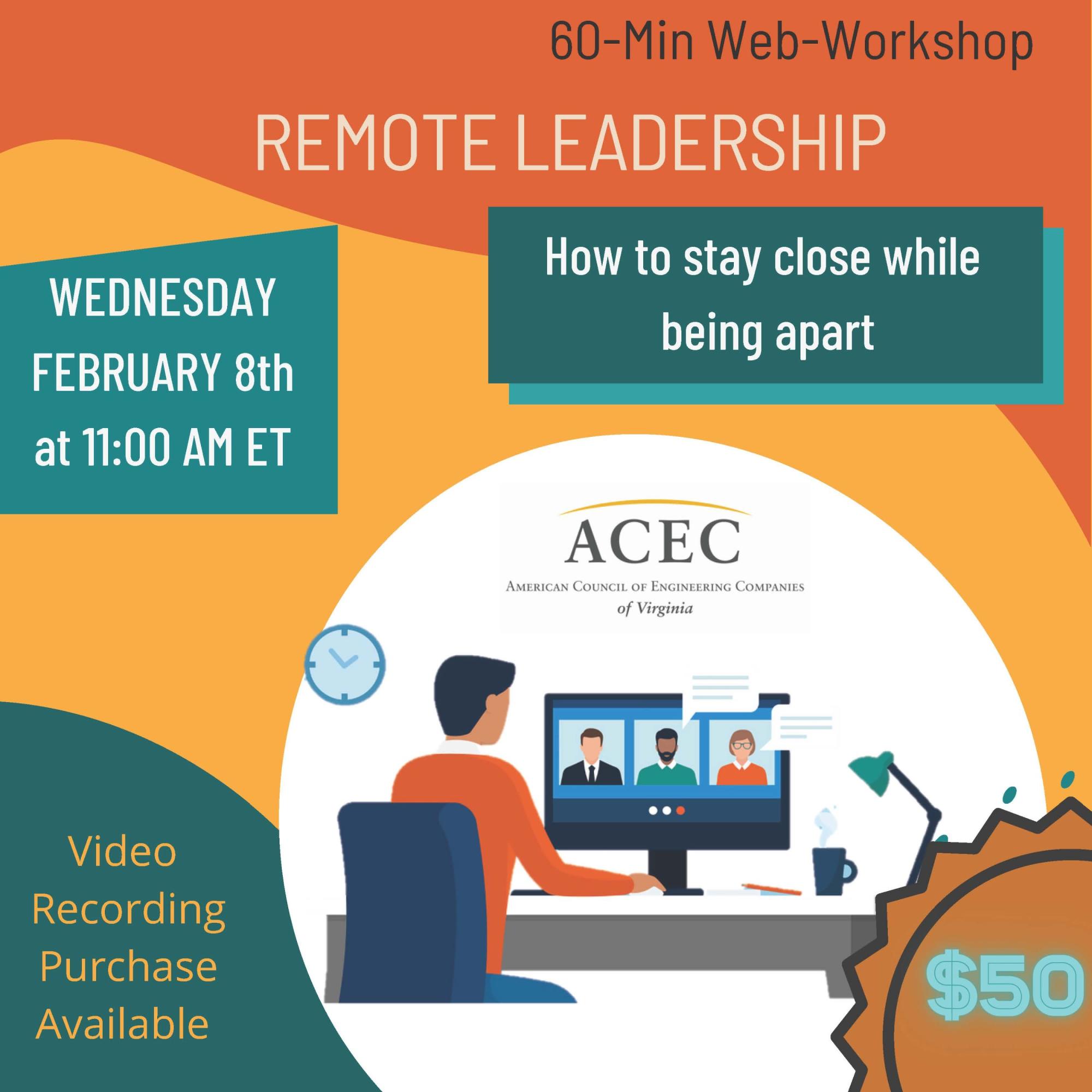 REMOTE LEADERSHIP with Jeff Gross
Wednesday, February 8th, 2023 (11:00 AM - 12:00 PM) (ET)
Description
ACEC Virginia has partnered with Gro-Nova to bring our members a Remote Leadership sixty-minute web workshop (Video Recording also Available).
REMOTE LEADERSHIP
Global Workplace Analytics reports that 25-30% of the workforce are working remotely and will remain so. There are pros and cons to working remotely but no matter what side you fall on, it is here to stay in one form or another. Gro-Nova's Remote Leadership teaches the fundamentals of leading a remote team. Jeff Gross, CEO Gro-Nova, has personally led remote teams and his first-hand knowledge is both practical and timely.
In this workshop you will learn:
• The common challenges to leading remotely
• How to stay close while being apart
• How to use technology to build a team
• To manage remote expectations
• How to encourage remote social interactions
This workshop will be hosted by Jeff Gross, Chief Empowerment Officer with Gro-Nova.
Pricing
$50 per person. Video recording of the workshop is also available for $50. The workshop is limited to 20 participants to maximize participation.
Zoom Meeting
You will receive the link to join the meeting in the confirmation email. We will also email the link to registrants the day of the event.
Zoom

Wednesday, February 8, 2023 (11:00 AM - 12:00 PM) (EST)